The problem is usually caused by the incompatibility of the interchange chip of the multi-channel capture card with your computer's motherboard. Follow these steps to update the BIOS:
1.

Uninstall the capture card
In Device Manager, expand Sound, video, and game controllers, locate and right-click the Magewell capture card, and then select Uninstall device from the context menu.
Remove the capture card from the computer.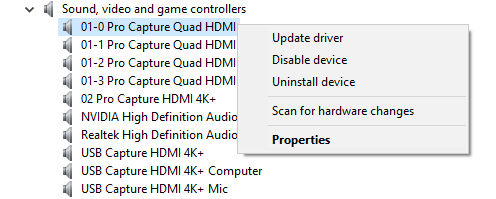 2.

Upgrade BIOS

Go to the official website to download the latest BIOS upgrade program. Then update BIOS according to the official instruction.
3.

Install the capture card

Shutdown the computer, insert the capture card and then start the computer.

Power off your computer before removing or mounting the PCIe capture card.